All Plantation Homes 1st Quarter 2017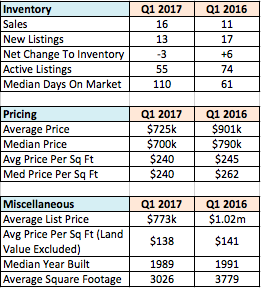 All Plantation Homes 3 Year Trend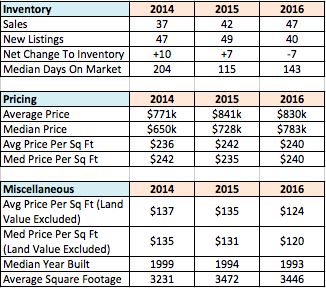 Analysis

The national residential real estate market and the Amelia Island Plantation residential property market have made positive strides over the past three years. Headlines indicate that prices are increasing and now maybe a good time to consider selling a property. A wise proverb notes that all real estate trends are local. With this in mind, our in-depth analysis looks behind the headlines to provide helpful information for those considering selling their home on the Amelia Island Plantation.
(For disclosure purposes, all our data is sourced from MLS. We do not include data from Little Dunes or Heron Oaks sales in our single family home statistics/analysis. Instead we complete a separate analysis for these properties. Also, we remove outliers from our study. Any homes that sell for more than $2 million or less than $400k are removed as they are rare and can greatly distort averages.)
Statistics, published in the AIPCA's Canopy newsletter, suggest that market values on the Plantation are rising because the average sale price of single family homes increased from $801,810 in 2015 to $886,811 in 2016. (See our disclosure earlier in this article as to why our statistics differ.) These results are encouraging, but deeper analysis provides a better understanding which can help potential sellers better position their properties in the market.
Properties differ drastically in style, size, age, update level, quality of finishes, floor plan, and land value. Land values by themselves can vary between $150k to over $1 million. Therefore, the mix of homes sold will have a huge impact on average and median pricing. For example, the percentage of homes sold that had either an ocean, marsh, or golf view, increased each year from 2014 through 2016. Since these properties usually have a higher market value, this would have an inflationary impact on average/median Plantation pricing but it does not necessarily mean that property values are increasing.
Also, average pricing is susceptible to distortion caused by outliers. For example, in 2016, an oceanfront home sold for $5.2 million. This sale had major inflationary impacts on average pricing. Another example, would be a home that sold in 2015 for $270k which had deflationary impacts on average pricing. If the outliers (sales for over $2 million or under $400k) were removed from the AIPCA newsletter's statistics, average pricing would have decreased from $822,867 in 2015 to $810,483 in 2016.
To help make sense of the Plantation real estate market, we look at an interesting statistic that most people do not consider. We study sales prices per square foot with land value excluded. To do this we subtract the lot price from the sale price and then divide this number by the square footage. For example, lets say a golf course home sells for $750k. It is 3,000 square feet and its lot value is $300k. The price per square foot with the land excluded would be $150 or $750k - $300k, divided by 3000. To determine lot values, we referenced the county's assessed value for the land of each property. We assumed the assessed value to be 80% of the actual market value. (We did make adjustments to assessed values we thought were wildly different from true market value.) Using assessed values is not a perfect formula and does not always reflect true market value, but it does provide a reference point that allows us to compare home characteristics across all properties. Interestingly, with land excluded, the average and median sale prices per square foot decreased each year.
What caused this decrease? We think this is primarily a result of two factors. First, the overall age of the homes which sold increased from 2014 through 2016. What we mean by this is that the mix of sold homes included more older properties each year. In fact, we listed the "year built" of every home sold and identified the median for each year. You can see the result in the table above. Typically with all other factors being equal, an older home will sell for less per square foot than a newer home. Obviously the year built does not factor in remodeling or updates which will increase the sale price, but we did see a trend in declining prices as home age increased. For example, the median price per square foot (land excluded) for homes built between 2010 and 2016 was $186. For homes built between 2005 and 2009 it was $162. For homes built between 2000 and 2004 it was $153. This trend continued for every 5 year age bracket, all the way down to homes built in the 1970s with one exception being homes built between 1985 and 1989. (This age bracket had a few outlier homes with extensive remodeling which we think contributed to a higher median price per square foot.)
The second factor that might have contributed to declining prices per square foot (with land excluded) is the fact that we have been in a buyer's market up until 2017. With inventory increasing up until 2015, buyers have had more options to choose from which allowed them to be more selective and negotiate prices down. This trend is also consistent with buyer's preference not to deal with renovations and updates. They prefer to purchase a home that is move-in ready. If they do decide to buy a home and renovate, they want a big enough discount in sale price to cover the cost of renovation plus a cushion to keep their total amount invested below market value. Essentially, they are looking for a discount to compensate for the hassle and risk of taking on the renovations themselves. For example, what would be the sale price of a home listed for $850k that is in need of $300k worth of renovations and which has a projected market value of $1.1M once renovated? You would think $800k would be a fair market price. However, a buyer might offer $700k instead, viewing the extra $100k as a value cushion or as compensation for the additional risk and hassle. This has had a deflationary effect on prices per square foot (land excluded) and could have contributed to the drop between 2014 and 2016.
Looking Ahead

We believe the Plantation market has shifted from a buyer's to a seller's market in early 2017 as a result of the recent drop in inventory. In 2016, sales outpaced new listings, creating a -7 net change in inventory. This is a big swing from +10 and +7 in the previous two years. Heading into 2017, there were 31 active home listings on the Plantation and heading into the 2nd quarter, there were 34. (There were around 50 active listings heading into 2015 and 2016.)
Since this shift in inventory is still relatively new, we are just beginning to see the impact on prices. However, demand appears to be steady, indicated by an increase in sales in Q1 2017 over Q1 2016 despite lower inventory levels. If this trend continues we expect prices to rise.
Homes that are in great shape and have great floor plans will be the first to take advantage of rising prices. Homes which are in need of updating or have outdated floor plans, may take longer to see prices increase because buyers still seem hesitant to take on major renovation efforts. Eventually however, these properties will benefit from the increase of potential value (once renovated) and will see sale prices increase. Property owners should consider making certain updates before selling since this may save them money in the long run.
Stay tuned for our next report for an in-depth study of homes by lot type. We will complete a report for marsh-front, golf course, Long Point, and wooded-vew homes as well as Heron Oaks and Little Dunes.