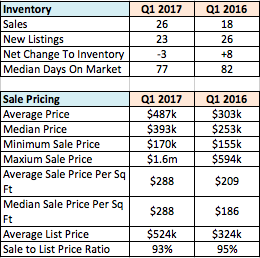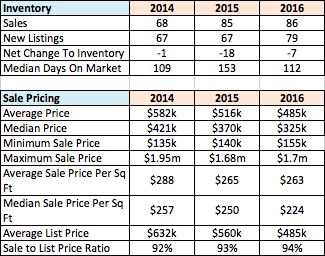 Analysis
The national real estate market and the Amelia Island Plantation villa market have made positive strides over the past three years. Headlines indicate that prices are increasing and now maybe a good time to consider selling a villa. A wise proverb notes that all real estate trends are local. With this in mind, our in-depth analysis looks behind the headlines to provide helpful information for those considering selling their Plantation villas.
(For disclosure purposes, all of our data is sourced from MLS.)
The statistics above show increasing sales with decreasing average/median prices from 2014 through 2016. Then in Q1 2017, average and median prices increased over Q1 2016. Looking at the statistics above, it would appear that prices were trending downward in the Plantation villa market from 2014 through 2016 however, this does not necessarily reflect true market trends.
The changes in average and median pricing were caused by shifts in the type of villas sold. Each passing year, from 2014 through 2016, the number of sales on the high end of the market declined while the number of sales on the low end increased. For example, the percentage of villas that sold for over $1 million decreased each year from 15% in 2014, to 13% in 2015, to 9% in 2016. Also, the percentage of villas which sold for less than $300k increased each year during this period from 47% in 2014, to 51% in 2015, to 56% in 2016. In fact, the percentage of villas sold in the $200k to $300k range increased dramatically each year, from 16% in 2014 to 21% in 2015, to 35% in 2016.
We believe this shift in the mix of properties sold resulted from a change in inventory rather than a change in demand. For the overall Plantation villa market, inventory has trended downward as shown in the chart below.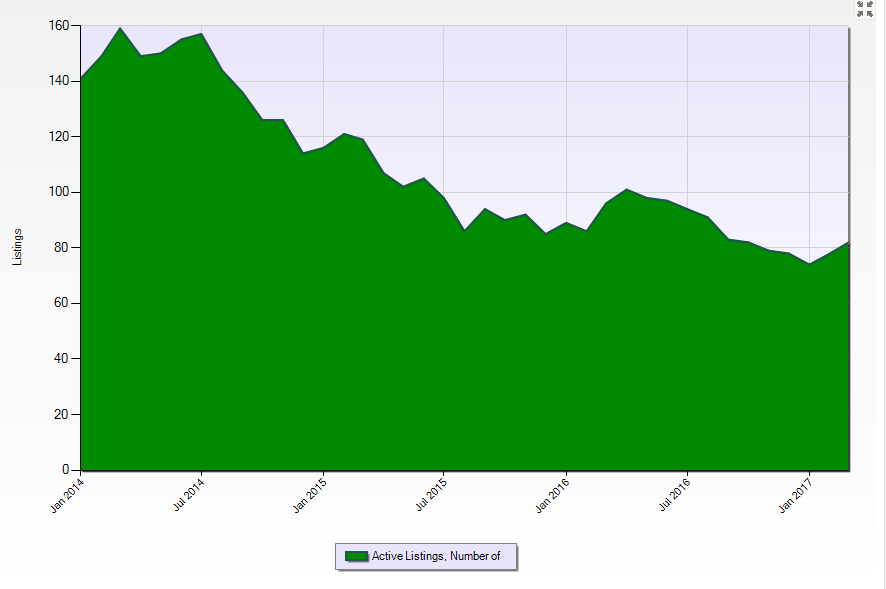 However, breaking Plantation villa inventory down into categories shows that this trend was more exaggerated for some of the higher priced villas. For example, Ocean Club Villas and Dunes Club Villas have seen a drastic reduction in inventory levels since 2014 as shown in the chart below.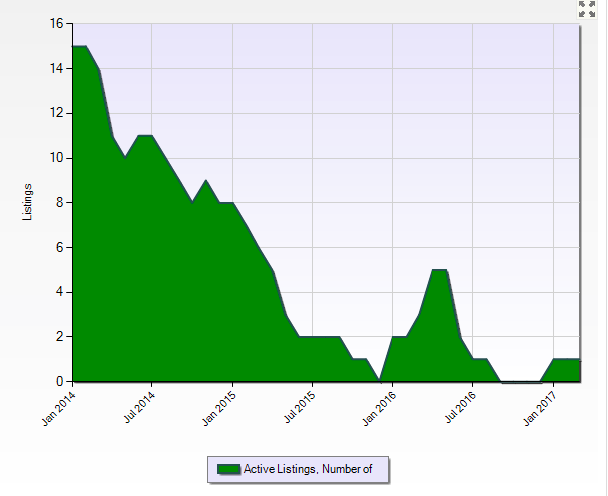 An inventory reduction like this will limit the number of sales at the top-end of the market which will naturally shift average and median prices down. If we can't rely on average and median sale prices to determine the direction of the market, what can we study instead?
A starting point is to break the analysis down by each individual villa association. But prices can still vary drastically within each association due to differences in floor level, update level, view, and number of bedrooms. For example, Marsh View Villas have had sales in the $200k range for units in original condition as well as sales in the $800k range for completely renovated units. To gain an accurate understanding of market trends, we need a way to account for these differences.
To do this, we created a villa index which factors in each villa's assessed value from the tax records. While the assessed values do not factor in cosmetic updates like new cabinetry, counters, and appliances, they do factor in differences of floor level, view quality, and the number of bedrooms. For each villa, this index subtracts the assessed value from the sale price and then divides this number by the square footage, to create a metric used to compare sales across different villa types. What results did this metric show? Overall villa pricing dipped in 2015 but then rebounded in 2016 to levels that were higher than 2014. For the first quarter of 2017, pricing continued to increase further which is a promising sign for the year to come.
Another factor to consider when analyzing pricing trends is the update or upgrade level of the sold villas. A villa that has been remodeled and upgraded should sell for more than a comparable villa that has not been remodeled. To better understand how this factor influenced villa sales, we assigned each sold villa into one of two categories: "updated" or "in need of updating." Of course, this analysis was a bit subjective, however we tried to be as consistent as possible. We discovered that the number of "updated" villas as a percent of total sales increased each year, from 44% in 2014, to 47% in 2015, to 48% in 2016, and finally to 50% in the first quarter of 2017. This most likely contributed to the increasing pricing trends.
Looking Ahead
We expect villa pricing to continue to rise as we move forward in 2017. How quickly prices rise could vary depending on the villa type. For example, Ocean Club Villas were the first to experience the lower inventory and therefore jumpstarted the price increases. The combination of increased demand with decreased supply, created a rush for this particular villa, demonstrated by the median time on market for the past 3 sales being at 5 days. This rush created price increases in 2016 and there is a pending sale which we expect to push prices even higher.
Other villas should experience similar price increases since their inventory has now dropped in similar ways to Ocean Club Villas. During the month of April 2017, there were 49 total villas listed for sale. In April 2016, there were 88. This is a drastic reduction in inventory. The inventory charts above show inventory increasing from the 4th quarter of 2016 to the 1st quarter of 2017. However, this is consistent with the natural listing cycle as many sellers look to list at the beginning of the year. To gain a better understanding of true inventory trends, it is important to compare the first quarters of each year. When we did this, it was obvious that inventory was in fact decreasing, even in 2017. The average number of of listings during the first quarter went from 150 in 2014, to 119 in 2015, to 91 in 2016, and to 79 in 2017.
Based on recent activity, we believe this trend will continue throughout the second quarter of 2017 which should support further price increases. As we mentioned before, there are a few pending sales which we think will strengthen the proof of price increases among Amelia Island Plantation villas.
We'll be sending out individualized reports for each condominium over the next few weeks so stay tuned!