All Plantation Villas

All Villas By Condominium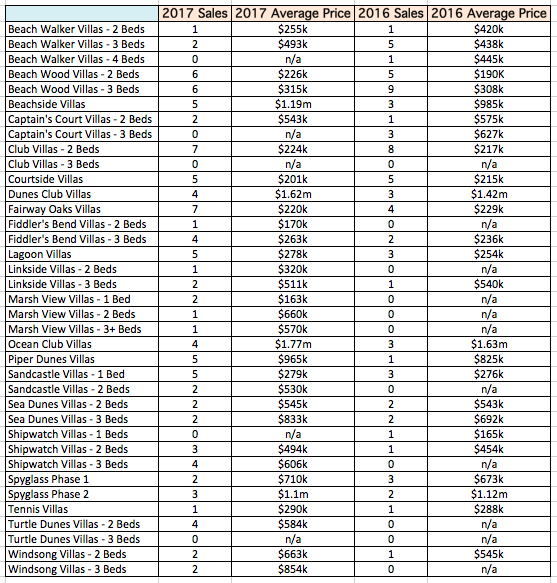 Analysis
The Amelia Island Plantation Villa market had a strong year in 2017. Prices went up across all categories and inventory went down. At the end of 2016, there were 79 villas listed for sale. At the end of 2017, there were 54 villas listed for sale.
The villas built after 1991 (Beachside, Dunes Club, Ocean Club, Piper Dunes, & Spyglass II) led the way with a total of $665k worth of average price increases. While not every condominium experienced price increases, a majority did experience an increase over 2016. Of the condominium categories listed above which had comparable sales in both 2016 and 2017, 17 experienced price increases, while only 5 experienced price decreases. The statistics above do not account for variances in floor level, view quality, or update levels, however the fact that 77% of condominiums saw an increase in their sale pricing is a good sign for villa owners.
Villa Highlights
Beachside Villas had a strong year. The average sale price was $1.19m in 2017 as compared to $985k in 2016, and $883k in 2015.
Dunes Club Villas saw an average price increase from $1.42m to $1.62m. This increase was partly due to the mix of units sold with some higher floor villas selling in 2017. However, there were also sales with comparable floor levels between the two years, where 2017 saw price increases. For example, a 4th floor villa sold for $90k more in 2017 than another 4th floor villa in 2016.
Ocean Club Villas kicked started the increasing prices trend this year with the sale of a $2.15m villa. For the year, they experienced an average price increase of $140k. This increase came despite the mix of units sold in 2017 containing lower floor levels than 2016.
Beach Wood Villas had a nice year with price increases in both the 2 bedroom midrise villas as well as the 3 bedroom townhomes. Beach Wood inventory remains low with one 1 townhome villa and 2 midrise villas on the market which should indicate further price increases in 2018.
Looking Ahead
We anticipate prices to continue increasing in 2018. Inventory is still low compared to the past few years and demand appears to be strong considering the number of sales in 2017 was 25% higher than 2016, despite lower inventory. We expect the oceanfront villas built after 1991 (Beachside, Dunes Club, Ocean Club, Piper Dunes, Spyglass II) to continue leading the charge in 2018 as their inventory remains low. If cold winter weather continues across the country, we expect a busy spring and summer selling season - which is a good sign for villa sellers!